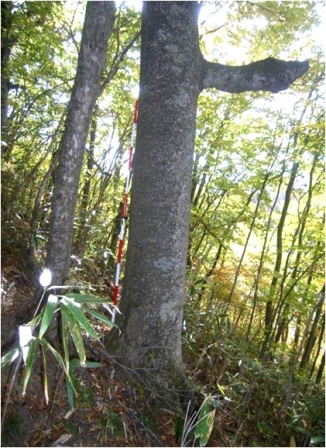 | | |
| --- | --- |
| Pseudonym reading | Tegari Jinja Nobuna / Inubunan |
| Specified type | Prefecture designation |
| Type | Natural monuments and plants |
| Designated date | March 2, 2010 |
| Specified details | |
| quantity | |
| location | Miyako city Ozata chain |
| owner | Tanase Shrine |
| Holding group | |
| Management organization | |
| home page | |
Overview
The beech-inuvuna forest in the Kitakami mountain area is rare, and is distributed at relatively high altitude Mt. Murone (slope of 600 to 791 m above sea level) and Tsugaru Ishikawa headwater zone of Yamada-machi (300 to 600 m above sea level).
The Beech-Inubuna forest, which forms the Tashinsha Shrine plexus, is located in the shrine grounds and has been left for a long time without being cut off as a prohibited area. In addition, it can be seen in the lowland below 90m above sea level, it is a typical forest dominated by Sinotake representative of the Pacific side in the forest floor, and the prototypical polar of the Kitakami Mountains coastal area where most of it has been lost. It is a scientifically valuable forest for reasons such as keeping the appearance of the Airin forest, and it has already been added to the "Plant community Red Data Book" ("Goods" Japan Nature Conservation Association 1996) It is described as "an urgently needed colony" as a climax forest and an inubana distribution north limit.
Furthermore, although the form is similar to that of beech, there are four individuals growing in the same forest, which are distinct from typical beech with smooth bark, due to the bark being split. These individuals were discovered in 1995, and their flower and fruit morphology and gene analysis corresponded to one breed of beech, and they correspond to new varieties ("Taksaribuna" (provisional name)). The characteristic split bark is a rare mutation that has occurred in this area, and since there are multiple individuals, it needs to be observed and protected in the future.
image