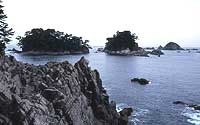 | | |
| --- | --- |
| Pseudonym reading | Ao Matsushima |
| Specified type | Prefecture designation |
| Type | Scenic spot and natural monument |
| Designated date | June 6, 1969 |
| Specified details | |
| quantity | |
| location | Rikuzentakata City Hirotacho Character Collection |
| owner | Rikuzentakata City |
| Holding group | |
| Management organization | |
| home page | Iwate Prefecture Tourism Association (Aomatsu Island) |
Overview
The island of Aomatsujima, 300 meters to the south of the south end of Hirota Peninsula, Hirota Peninsula, is composed of whole island granite, consisting of Kishi Aoshima Island, Oki Aomatsu Island and surrounding reef groups.
The island is covered with a warm tropical evergreen forest mainly consisting of black pine, and warm tropical shrubs such as Tobella, Hisakiki, Hamahiyasyakin and Oobajanohiage show excellent growth under the forest, and there are also tabanum, Maruba Tsurumaki, Obibota etc. Do.
On the island, there are breeding of sea urchins and gobys that are thought to have migrated from Kashiwajima, and at first glance there is a feeling of bird's paradise.
The gray white granite is covered with the greens of black pine, and the reef landscape stands out.
Tobera, in particular, was first seen in this prefecture on Aomatsu Island, and has a wonderful flowering and fruiting.
This Tobera is a northernmost distribution site on the Pacific coast of Honshu.
Prefecture designated excellent landscape.