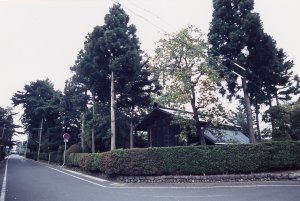 Overview
Kanegasaki-cho is located in the southwestern part of Iwate Prefecture.
The east side of the town borders the Kitakami River, and the urban area spreads on a plateau on the west side of the point where the Yunouchi River joins the Kitakami River.
This land became Sendai conspiracy in Tensei 19 (1591).
In Shonai, a large-scale vassal (Taishinshin) is given a residence in the country to reign Chigyouchi, and that residence is called a need for harm, one of which is the need for harm in Kanegasaki. The
It is thought that Omachi Seiri (Omachida Satare), transferred to Kanaga 21 (1644), maintained the town of Kanegasaki, facing the Kitakami River, required damage, the Oshu highway in the west of the required damage, and the Samurai area between the required damage. , Along the Oshu Highway was a township site.

The Suwakoji Traditional Building Preservation District in Kanegasaki Town is about 690m east to west, about 980m north to south, and covers an area of about 36.8 hectares, covering almost all of the area of the area of Sakai and Sakai area where rivers and trees are rich. It is surrounded by natural nature.
The street composition and house splits have almost remained from the modern age.
Near the entrance on the site, itakura (in the back), the main storehouse (Momoya), an amenity such as a toilet, a bath, a hut, etc. and a back storehouse (kura) are arranged around the entrance of the main house.
There are eight main houses built in the early modern period.
Based on girder lines 7 to 8 and beams 4 to 5, the basic structure is to create a girder (weather making) and a girder, but today many roofs are covered with metal plates.
Each site faces the street and is divided by hedgerows and stone piles, and various trees are planted in the site.
Hedges and masonry that continue to face these streets, and the man-made forest behind them, characterize the street landscape.

The Suwakoji Traditional Building Preservation District in Kanegasaki-cho Castle follows the basic urban area structure such as the required damage and the land area of the Samurai area, leaving well the traditional buildings such as Sakai Samurai houses. ing.
Furthermore, the site composed of hedges and mansion forests is integrated with the lush surrounding natural environment to leave a distinctive historical attraction and is highly valuable for Japan.