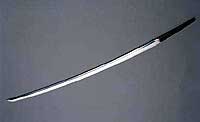 Pseudonym reading
Life is long for everyone
Specified type
Country designated / important cultural property
Type
Craft
Designated date
April 25, 1927
Specified details
quantity
1 bit
location
Morioka city circle
owner
Sakurayama Shrine
Holding group
Management organization
home page
Overview
Warpage 2.4 cm.
The structure is small, the warpage is shallow, and the forging is large.
The blade is disorganized with each other, the stem is fresh and there is one eye nail hole.
Still leaving the original blade, the blade is also sound, it is a sword with a magnificent appearance.
Although it is not clear, it is considered to be the work of the Yamashiro country sect.
In 1926, he was sent to Sakurayama Shrine from southern Rikei.
89.9 cm in length.