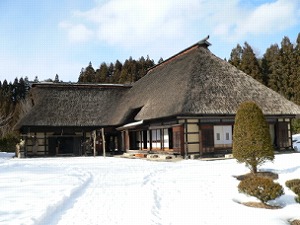 | | |
| --- | --- |
| Pseudonym reading | Chinese New Year's Eve |
| Specified type | Country registration |
| Type | Building |
| Designated date | April 18, 2008 |
| Specified details | |
| quantity | 1 building |
| location | Tono City, Tatsuma Ushicho |
| owner | Tono |
| Holding group | |
| Management organization | |
| home page | |
Overview
Farmhouse architecture in the west of Tono hometown village.
It will be a bent house with a dormitory of the Irimoya building and a stable store projecting to a 10 m girder with a girder row of 20 meters.

The Sasaki family house was built in the Meiji period, and relocated the one that was in Hanasaki-shi Oasako-cho to the present location in 1991.
The floor plan of the main house is from the characteristic layout of the Osakoki area where the seating is continuous in the beam direction with the "upper seating", "middle seating", and "lower seating", and the tono wind of "rim", "under seating" and "upper seating" at the time of relocation. It has been remodeled to be a room plan.

It is a large-scale bender of the upper-level farmers who represent the Osako region, and creates a large-scale and stylish appearance.
We set up a lower roof porch in the front and set up the second floor of a raised raised bamboo and used for sericulture.