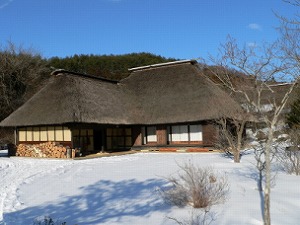 | | |
| --- | --- |
| Pseudonym reading | Chinese New Year's Eve |
| Specified type | Country registration |
| Type | Building |
| Designated date | April 18, 2008 |
| Specified details | |
| quantity | 1 building |
| location | Tono City, Tatsuma Ushicho |
| owner | Tono |
| Holding group | |
| Management organization | |
| home page | |
Overview
Farmhouse architecture located to the west of Tono Furusato village.
It will be a bent house with a girder structure of 16 m long and a 9.8 m distance between beams and a girder structure of Doma and Stables.

The former Kawamae family house was built at the end of the Edo period, and the one that was in Tonomachi, Tono City was relocated to the present location in 1991.
As for the floor plan of the main storehouse, the "kitchen" and "Nodo" are connected to the difference between the "Sashiki", "Oku-zashiki", "Chanma", and "Consciously living".

There is a trace of reconstruction from a straight house to a bent shop in the roofing section of the bent part, and you can see the transition to the bent shop.