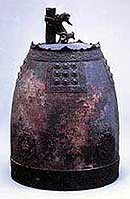 Pseudonym reading
What
Specified type
Country designated / important cultural property
Type
Craft
Designated date
January 30, 1934
Specified details
quantity
1 bit
location
Morioka Ehime-cho
owner
Toshiei Nambu
Holding group
Management organization
home page
Overview
Total height 57.8 cm.
38.18 cm in diameter.
It is a Korean bell that bears the inscription "Kinno University (Taisu) plus six years New Year's Day".
The 6 years of Taihe (1206) is Japan's first year of construction.
Its outer diameter exhibits a beautiful curve because its diameter is wider than that of the boat (23.3 cm in diameter) and the bell is rather long.
It is said that it was caught in a fishing net on the coast of Oshu Kamaishi on March 10, 2015, on March 10, 2015.
At Morioka Nishiki, it was called a garden bell.