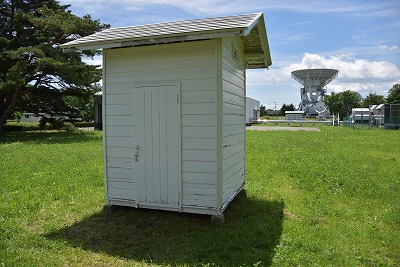 | | |
| --- | --- |
| Pseudonym reading | University of Tokyo and the University of Tokyo |
| Specified type | Country registration |
| Type | Building |
| Designated date | October 27, 2017 |
| Specified details | |
| quantity | 1 building |
| location | Hoshigaokacho, Mizusawa-ku, Oshu-shi |
| owner | University Joint Research Organization Natural Science Research Organization |
| Holding group | |
| Management organization | |
| home page | |
Overview
It is a target stand and a closed house built at a position of about 100 meters north of the Visual Zenith Room, which was built in 1887.
It was installed for the calibration of the visual zenith, the cover is a wooden flat, the roof is a gable girdle, the outer wall clapboard, there is a target block of bricks in the center of the inside. The target stand and the shell are out of order for accurate observation.
It is a facility for zenith calibration with few examples in Japan.
image