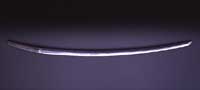 Pseudonym reading
Meizakezane
Specified type
Country designated / important cultural property
Type
Craft
Designated date
May 27, 1939
Specified details
quantity
1 bit
location
Morioka City Ueda Matsuyashiki
owner
Iwate Prefecture
Holding group
Management organization
home page
Overview
77.4 cm in length.
Warp 2.8 cm.
The forging, the fortress, the width is around, and the tip is a chopped tip.
Layers are thick, ridges are high, and warpage is deep.
The ground is Kotome Tsumomi and Chiko Ei Ren.
The blade is a large-bodied tone, mixed with a big crock and two-eyed crest, with feet and leaves well in it.
The blade of the cutting edge is slightly disturbed and the tip is pulled off.
The stems are raw, and the squares are selfish.
Sushin is a one-letter swordsman from Bizen-kun, who moved to Kamakura during the Bunkyo and Hiroyasu eras.
This sword is a southern tradition.