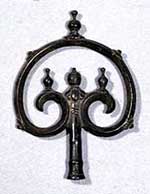 Pseudonym reading
How are you doing?
Specified type
Country designated / important cultural property
Type
Craft
Designated date
June 6, 1979
Specified details
quantity
1 pattern
location
Kitakami city Inase-cho Uchimonoka
owner
Gokuraku Temple
Holding group
Management organization
home page
Overview
15.0 cm in height.
Wheel diameter 10.7 cm.
Handle diameter 1.6 cm.
Made of cast copper, wheels are rhombus in cross section.
It has a circular arc shape and the lower end is rolled into a gauntlet.
Water bottles are mounted on the crown of the ring, the tip of the internal handle, and on the left and right hands.
The pattern is bamboo-shaped, and creates two strings.
It is a work of the middle Heian period.