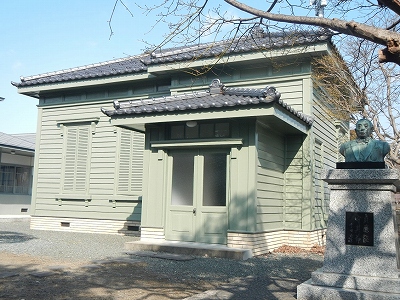 | | |
| --- | --- |
| Pseudonym reading | New Year's Eve |
| Specified type | Country registration |
| Type | Registered tangible cultural property |
| Designated date | March 27, 2018 |
| Specified details | |
| quantity | 1 building |
| location | Ginzawa-gun Kanegasaki-cho Miyoshiri ground |
| owner | Kanegasaki |
| Holding group | |
| Management organization | |
| home page | |
Overview
It was built as a reception of the Western-style building of the Iwate Governor's Government Building in 1972, was deducted in Kingasaki-cho in 1946, and was relocated to the current location in 1994. There is a hall at the back of the entrance and there is a reception room and a waiting room.
It is a wooden one-story building, with a multi-tiered tiled tile, and its outer wall is clapboarded.
The ceiling of the reception room is a building equipped with a design suitable for the governor's official building, such as the ceiling plate extending radially from the center decoration.
image