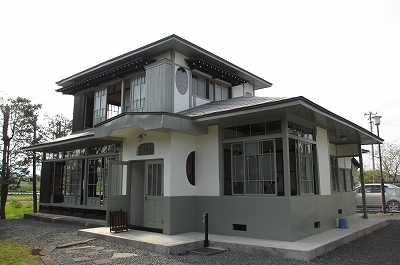 | | |
| --- | --- |
| Pseudonym reading | Time limit |
| Specified type | Country registration |
| Type | Registered tangible cultural property |
| Designated date | March 27, 2018 |
| Specified details | |
| quantity | 1 building |
| location | Ginzawa-gun Kanegasaki-cho Miyoshiri ground |
| owner | Kanegasaki |
| Holding group | |
| Management organization | |
| home page | |
Overview
It is built in 1955 and is built with a wooden two-story wooden building facing south with iron plate.
The first floor has 10 tatami mats, 7 and a half tatami mats for the next half, with the edge facing south and west, and a dining room, entrance, etc. in the east.
The second floor also has a Japanese-style two-room configuration, with the eaves back as a board eave and round windows, providing an appearance that harmonizes elements of Japanese and Western.
Currently, to honor the achievements of Chida Masaru, a politician from Kanegasaki-cho, the museum has been published as the Chida Masaru Memorial Hall.
image