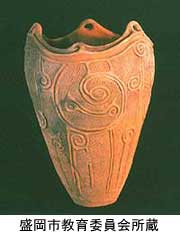 Pseudonym reading
Fukkahachigatari
Specified type
Country designated / important cultural property
Type
Archaeological Material
Designated date
June 6, 1988
Specified details
quantity
7 pieces
location
Morioka City connection elementary school storage
owner
Morioka
Holding group
Management organization
home page
Hiraizumi's cultural heritage
Overview
Maximum height 50.4 cm.
The smallest one with a diameter of 30.4 cm and a total height of 43.2 cm.
26.5 cm in diameter.
During the site preparation work of the school site in 1949, it was discovered in a state of being buried at once.
There are four complete earthenware and three earthenware that lacks the lower half of the barrel, and the former has a hole at the bottom.
These have the possibility of being related to burial etc. from the state of the earth being excavated and the thorough part drilling after firing etc.
It is a representative of the Middle Jomon Period in the Tohoku region, including two deep bowl-shaped earthenware that draw a magnificent scroll on the body.