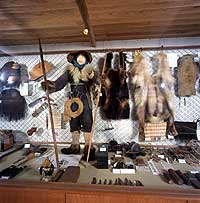 | | |
| --- | --- |
| Pseudonym reading | New Year's Eve |
| Specified type | Country designation |
| Type | Important tangible folk cultural property |
| Designated date | August 5, 1978 |
| Specified details | |
| quantity | 486 points |
| location | Nishiwaga-cho Sawauchi Ota |
| owner | Jinxiang Temple |
| Holding group | |
| Management organization | |
| home page | Iwate's Encyclopedia of Cultural Information |
Overview
In the Tohoku region, the Owa Mountains in the center, the Kitakami Mountains in the east, and the Dewa Mountains in the west are long lines from north to south. The life to follow hunting has been practiced.
The "Matagi Hunting Equipment" collected here is centered around the Matagi village along the Owa Mountains, and has 122 hunting equipment, 257 clothing and carrying tools, and 15 shack-related processing and processing tools. There are 29 points, 7 trade-related tools, 56 faith tools, and a total of 486 points.
In particular, the collection of tools for bear hunting and wild boar hunting is extremely important not only as it has good mass and is not only valuable as a feature of regional livelihoods, but also for understanding hunting customs in the Tohoku region.
image