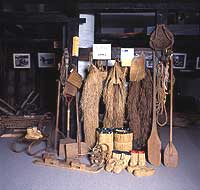 | | |
| --- | --- |
| Pseudonym reading | Sawa Uchi and Sue Chi Chi Chi Chi Seok |
| Specified type | Country designation |
| Type | Important tangible folk cultural property |
| Designated date | March 31, 1986 |
| Specified details | |
| quantity | 1,792 points |
| location | Nishiwaga-cho Sawauchi Ota |
| owner | Jinxiang Temple |
| Holding group | |
| Management organization | |
| home page | |
Overview
Located in the uppermost part of the Waga River, the Sawanai region embraced by the Owa Mountains is known as a heavy snowfall area in winter.
This collection includes tools for daily life that were developed from the preparation of the winter weight in Sawanai and the surrounding area to snow melting in the next spring, and tools that have been used for various production activities developed during the snowy season It consists of 1,792 points.
The breakdown is 297 clothing tools, 170 food tools, 192 living tools, 704 production tools, 75 transport tools, 272 transport tools, 63 entertainment tools, and 19 religious tools. .
Not only valuable through knowing the life of the snow season immediately but also extremely important data from the concrete understanding of how people have lived while adapting to the natural environment throughout the year It is.