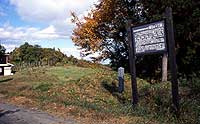 | | |
| --- | --- |
| Pseudonym reading | Kuroishi's house |
| Specified type | Country designation |
| Type | Important tangible folk cultural property |
| Designated date | December 13, 1993 |
| Specified details | 13 |
| quantity | |
| location | Oishi City Mizusawa-ku, Kuroishi Town, Shimoyanagi Outside |
| owner | Yukio Chiba Outside |
| Holding group | |
| Management organization | |
| home page | |
Overview
In Japan, there are a wide range of customs that create mounds at village boundaries and entrances, and send various faiths to them. 
One of them is 13zuka, and it is named for the one in which 13 mounds are lined up. 
Although various interpretations have been made about the nature of this mound, it is believed that it has now been built based on the 13 Buddha beliefs developed and developed from the 15th century to the 16th century. 
Kuroishi's Tensanzuka is located on the left bank of the Kitakami River in Kuroishi-cho, Mizusawa-ku, Oshu City, and draws a gentle S-shape from the northwest to the southwest on the hills of the border area of the nearby Kuroishi-dera. 
Each of the 13 mounds is made entirely of embankment, and the central mound is the largest typical 13 mound. 
The current owner, the Chiba family, is an old family who lives here for generations, and has a tradition that it was given to him a mountain forest including 13zuka as a toothpaste at the time he met his wife from Kuroishi-dera about 250 years ago. . 
In addition to digging the mounds strictly by contraindications, stepping on and climbing, etc., it is warned that sick people and injuries will be dealt with if treated poorly. 
The state of preservation is extremely good, and it is a valuable case where the construction process of Tosanzuka can be inferred.
image