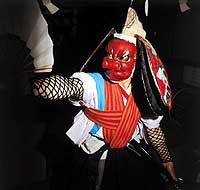 Overview
It is dedicated to the annual festivals of Hayaikemine and Otoko Shrine, which are handed down to the two areas of Take and Otoko, Osako-cho, Hanamaki City.
This Kagura was originally played by Yamabushi Osamu who looked up at Hayaike Mineyama as a sacred peak, and since the Meiji era, it has become the place where people of the land handed down, and now it is summer festival (July 31-August 1 In addition to the sun), it will be held at the end of the year on the stage of a private house.
Takeshi, Otoko used the winter farming season in the turn, went around the neighborhood while going around Gongen (Gionko), went door to door, prayed for a disease-free disaster, and played Kagura every night .
Kagura's performances consist of "style dance", "dance outside the seat", "Kyogen", etc., and "style dance" includes "bird dance", "mochi" " There are other dances such as "Shinmai", "Memai" and "Mamai" in "Zao's Dance" such as "3rd Ban" and each has a large number of tunes.
It seems that the origin of Kagura, Yutaka and Tokuno, was originally the same, but the former was brave on the basis of five beats, the latter had delicate art on the basis of seven beats, and both for their acting and directing methods There is a remarkable feature and it is an important performing art that implied the figure before Noh Taisei.
image