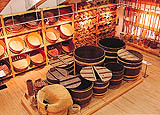 | | |
| --- | --- |
| Pseudonym reading | How to make it |
| Specified type | Country designation |
| Type | Important tangible folk cultural property |
| Designated date | April 21, 1982 |
| Specified details | |
| quantity | 1,788 points |
| location | Hanamaki-shi Ishitogaya-cho Chujirin Ishitori-Tani Historical Folklore Museum |
| owner | Hanamaki |
| Holding group | |
| Management organization | |
| home page | Iwate's Cultural Information Encyclopedia (Ishi-Tatiya Town History Folklore Museum) |
Overview
The area around Ishitogayamachi, Hanamaki City is said to be the birthplace of Nanbu Nagare.
Mr. Rui has left historical sites from the old times to the Shikoku region, mainly in the Tohoku region, and is famous nationwide along with that of Echigo and Tamba.
Mr. Nanbu's sake brewing equipment is a very detailed collection of various related equipment used in the former brewing process.
There are various tools related to rice brewing, steaming, salmon making, preparation, etc., as well as sake brewing related shipping tools, ceremonial tools, work clothes, etc.
Above all, special features are seen in barrels called cassilli used to carry pickled rice and steamed rice, etc., and various spouts inserted into warm air barrels and sake barrels used to promote moto breeding, devised from the actual brewing process There are a lot of things done.
It is important as an indicator of the actual conditions and changes of the sake brewing of the southern region.