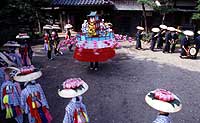 | | |
| --- | --- |
| Pseudonym reading | It's a long way to go |
| Specified type | Country designation |
| Type | Important intangible folk cultural property |
| Designated date | January 28, 1981 |
| Specified details | |
| quantity | |
| location | Morioka City Nagai |
| owner | |
| Holding group | Nagai Dai Nembutsu Ken Dance Preservation Society |
| Management organization | |
| home page | Iwate's Cultural Information Encyclopedia (Nagai's Great Buddha Buddha Dance) |
Overview
Both Iwate and Miyagi prefectures are known for performing arts called Kenbu, and depending on their art form, they are called Oni-kenbu, Atsuko-kenbu, Nembutsu-kenbu, Dai-nenbu, and so on.
What has been handed down in Morioka Nagai is the Great Buddha Buddha dance, a type of offering Buddha.
After dancing, walking and kneading with drums, and after retiring the garden at the gate, it becomes a circle around the turn with "gardening", and each song is called "Iwa", "Nakaha" and "Tikiha". Dance, and then proceed depending on the performing arts of "笠 廻", "」 胴 「", and "Reimu".
It is characterized by waving a large bowl with a tower in the center of a large circular platform, and the head of "Iwa" and "Nakaha" must be the name of "Namia Amida Buddha" Sing and sing.
It has rich characteristics as Nembutsu style art and is excellent as Nembutsu, and has high value as a material of performing arts history.