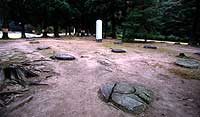 | | |
| --- | --- |
| Pseudonym reading | Other countries or countries |
| Specified type | Country designation |
| Type | Special historic sites |
| Designated date | October 12, 1922 |
| Specified details | October 12, 1972 (November 22, 1951 special historical site) H17.7.14 (addition and name change) |
| quantity | |
| location | Hiraizumicho Hiraizumi Osawa |
| owner | Outside Hiraizumi-cho |
| Holding group | |
| Management organization | |
| home page | Hiraizumi's cultural heritage |
Overview
According to the temple tradition, Moshi-ji is said to be the opening root of Jisho 3 years (850).
After that, Hiraizumi Fujiwara's second-generation, third-generation Hengshun was enhanced.
The building is said to have been Kondo Hall Enryuji Temple, Tokogyo-do, the second floor, a tower, a bell tower, a storehouse, Kichijodo, Sendedo, Kachijoji, Kanwaku-no-in, etc. Was lost.
At present, foundation stone and garden stone etc. are left, and the arrangement of pots in the past is extended.
The foundation stone of Namdaemun remains, and it is approximately 14.12 long in the middle of the row, about 12.12 long in the middle of the row, and between the second row and the third row.
Between the southeastern sides was found a flat tarpaulin, which is the basis of the pedestal of the Golden-Britique.
Oizumi Pond has bridges in the south and north, centered on Nakajima.
To the north of the bridge is the Nedo-ken Kinryu Enryuji Temple, to the west of which is the foundation stone of Kichijoji.
In the designated area, there is a traceable royal remnant.
This temple was built by a second-generation wife.
The garden pond is a typical pure land garden similar to the Moshi temple garden, and it has been excavated and restored to a Heian period garden.