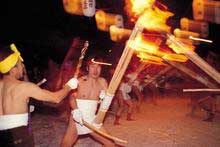 As a petition for Spring Prayer continuing from New Year 14th, on the 20th, New Year's Eve festival of Matara God (Moradajin) of Tokodo-do will be held.
It is also an important intangible folk cultural property of the country until late in the night after the law practice of "Gogyosanzanyo" of the ancient literature, which is the secret of the great Buddha who opened the mountain at Motsuji Temple. Maidens of long-lived dance will be dedicated. The dance is called "Darkaku Odori", "Romei (Romai)," Celebrity "(" Notto ")," Old Woman "," Woman Woman " It will be held in the order of "Chigomai" and "Chokushimai".
In addition, at the beginning of the night, young and old men and women of the evil year walk to the Tokogyodo with the torchlight at the head, offering vegetables such as daikon and Chinese cabbage in front of the Buddha to pray for disease freeness and family safety.
event date
January 20
Venue
Moshi Temple
Contact
Moshi Temple
TEL. 0191-46-2331
Moshi Temple
Related Links