History of Takeda's Seiichiro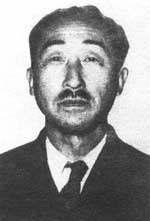 Born in Tono's family house in May 1892, he grew up in a strict family of educators. After going to Tono Junior High School (now Tono High School) and graduating from Iwate Normal School (now Iwate University Education Faculty) in 1943, he started teaching Kamaishi High Primary School and spent the teaching life in various parts of the prefecture. In Taisho 5 (1916), he went to Toyo Music School (now Toyo Music University) for full-scale research on folk songs and warabes who had been interested since he was a boy, and graduated in 1918. After returning to Iwate and teaching at Otsuchi women's vocational school and other women's schools, he visited various parts of Tohoku and continued to work on transcription.
During this time, I was married to my colleague's teacher, Kin Ishigaki, and blessed with four children, but my wife and Kin died in 1933. Later, she remarried her disciple Tamaki Onishi (a folk singer) and Showa 14 (1939).
He was greeted by the NHK Sendai Central Broadcasting Station as a commission in 1941 and was in charge of the "謡 謡 謡 業務 業務 business," in 1924 in 1942 in the shortage of supplies during the war Launched publication of "The Iwate Prefecture Volume" and completed "Tohoku Folk Songs Collection 8 volumes" by 1962. In addition, in 1955, he established Japan's first "Tohoku Folk School" in Sendai City and became the principal.
Also known as a composer, he composes popular songs from inside and outside the prefecture, including the school song of his home school, Tono Junior High School, exhibition place Kojima and Matsuo Mine Kojima, and arranges "Toyamanshi" to make it hit. In addition, "Song of the prefecture south bus" composed in 1955 was loved by many people as the first commercial song of this prefecture. In addition, they arranged the chorus of Iwate folk songs such as "Nanbu beef memorial" to a chorus, and brought a new style to the folklore world, such as adding accompaniment to orchestras to folk songs, and were highly evaluated.
For the achievement over many years, the Imperial Education President's Award, the Japan Broadcasting Corporation's Award, the Japanese Folk Culture Award, etc. were presented, and in 1969, he was awarded the Five Greatest Treasures. In his last year, he worked on the editing of the "Taiko-book" at his home in Sendai City, but ended his life at the age of 82 in December, 1970 (1970).
Tadaichiro Takeda is also a good violinist, and in 1930, he opened the Takeda Violin Stadium in Morioka. This is the first of a violin class in Iwate, and her first daughter, Sumiko Ando, did his teaching at Iwate's string education under the teachings of his father. Also, Seiichiro's youngest daughter, Maki, is married to Naoyuki Harada, and is teaching folk songs with her sister Takeko Takeda. Seiichiro was a person who bridged music from east to west.
Work of Takeda Takeichiro
Showa 6 (1917)
"Iwate Folk Songs" Tokyo Symphony Score Publishing Company
Showa 17 (1942)
"Tohoku's Folk Song No. 1-Iwate Volume" Japan Broadcasting Corporation's Association
Showa 26 (1951)
"Tohoku folk song story and 28 folk songs for Tohoku folk song"
Showa 28 (1952)
"Practical shamisen text book with five-line paper, first edition"
(Since 2 years in 32 years, 3 in 40 years)
Showa 29 (1954)
"Tohoku Warabe's 254 Songs" Japan Broadcasting Corporation's Association
Showa 30 (1955)
"Tohoku's Folk Song 2nd Series-Aomori Prefecture Volume" Japan Broadcasting Corporation's Association
Showa 31 (1956)
"Tohoku Folk Songs-Aomori Prefectural Volume" Japan Broadcasting Corporation's Association
Showa 31 (1956)
"Miyagi prefecture history (folk, Miyagi prefecture folk song)" Miyagi prefecture history publication society
Showa 32 (1957)
"Tohoku Folk Songs-Akita Prefecture Volume" Japan Broadcasting Corporation's Association
Showa 34 (1959)
"Tohoku Folk Songs-Miyagi Prefecture Volume" Japan Broadcasting Corporation's Association
Showa 35 (1960)
"Tohoku Folk Song-Volume of Yamagata Prefecture" Japan Broadcasting Corporation's Association
Showa 37 (1962)
"Tohoku Folk Song-Volume of Fukushima Prefecture" Japan Broadcasting Corporation's Association