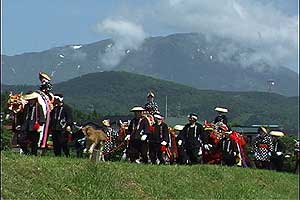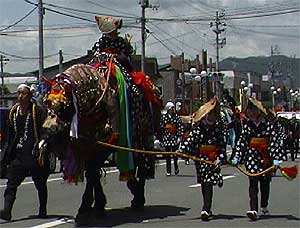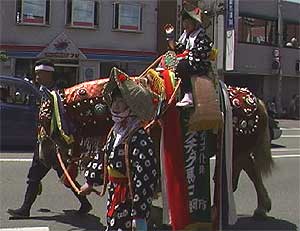 Every year on the second Saturday of June, about 100 horses with big and small bells go to Komagata Shrine and march with Shag Shag and Chag Chug against Iwate Mountain. It is a sound that tells the history of cherishing horses as a famous production area of horses since the Nara period.
Overview
Chaguchagu Mako is a traditional event that appreciates farm horses, and horses and horse owners dressed in colorful costumes visit sozen shrines early in the morning, marching up to about 5 hours to Morioka Hachimangu Shrine. The day before, it is full of Chaguchagu Mako Festival.
It was selected as a national choice intangible folk cultural property in 1959, and in 1998 it was also selected as one of the "100 Best Sound Scenes in Japan to Leave" by the Environment Agency (now Ministry of the Environment).
Chag Chag Mako was born from "Aima spirit" represented by the Southern Curved House. When horses were still used for farming work, the event which was set up as the only rest day during the farming season was transmitted. In addition, "small cargo costumes" attached to horses are remnants of the daimyo procession, and the history is an event that lives on now.
place
Takizawa-shi, Chimae Shrine-Morioka Hachimangu Shrine
A day to hear
Every year on the second Saturday of June
access
About 30 minutes by bus from JR Morioka station by bus to Takizawa office, 20 minutes on foot from Hagimae Shrine (Komagata Shrine) 15 minutes from Tohoku Expressway Morioka IC
Contact
Takizawa City Tourism Association
tel: 019-684-2111