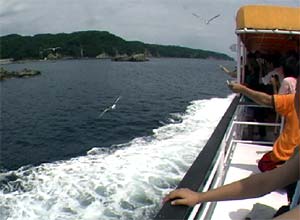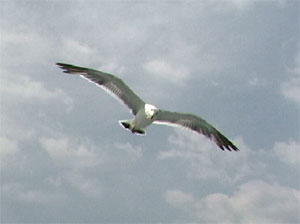 A lot of sea urchins gather in the pleasure boat which goes around the beautiful sea and strange rock of Sanriku. Feeding the sea urchin, along with the view from the ship, is one of the pleasures.
Overview
A sea cat is a kind of seagull and is a seabird distributed only in the northwestern part of the Pacific Ocean. The adult bird has a gray back and wings, a black band on the tail feather and a whole body white, and the cry is like a cat.
In Miyako's clear blue beautiful sea, and the island tour course of the tourist boat that goes around various islands and strange rocks, it takes 40 minutes a lap of Hijido Island, which is a natural monument, candle rock, and a tidehole. You can watch it carefully and experience the feeding of sea cats.
place
Miyako City Hitachi Hamacho
A day to hear
every day
access
About 15 minutes by car from JR Miyako Station
Contact
Jodogahama Terminal Building
tel. 0193-62-3350
(Interviewing cooperation: Iwate Kita Bus Tourist Vessel Division)