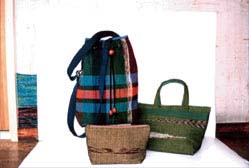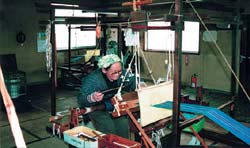 Main production area
Kitakami
Overview
A split weave is a fabric that revives old cloth. It is called from tearing old cloth into weft. We used a torn of rags to weave wefts. The thick cotton and linen weave made in this way is warm and hygroscopic. We keep improving the design and color scheme while keeping the casual beauty and simplicity of the split weave, and are working to match the work with modern life.
History / History
The name of Hira Taiba, the origin of the Southern Rift, is the name given to the face of the Noh mask called "Heita", by former Sawa Fuji Takasuke who was also a toy writer, a facemaker. In 1940, the predecessor who had no interest in weaving discovered an old split weave in Ezuriko's farmhouse, and it was the first to become a weaver, starting to weave by himself, impressed by the beauty. Hiratabo continues to develop new materials and new technology products while pursuing the split weave that matches modern life, while respecting the wisdom of his predecessors.
how to use
There is also a split weave that the design has no plan and natural colors can be appreciated as a wall hanging as it is. In addition, it is also widely used as a rug and rug for vases.
Main products
・ Pen case: 800 yen
・ Gamaguchi: 1,000 yen
-Shoulder: 5,000 yen ~
· Wallet: 1,800 yen ~
・ Coaster: 250 yen
・ Pouch: 1,500 yen
Manufacturing process
Cotton thread → warping → old cloth tearing → weaving → processing
contact information
Hirata bunch
〒 024-0073
Hiroe Shimae, Kitakami City, Iwate Prefecture 16-122
TEL0197-77-2857