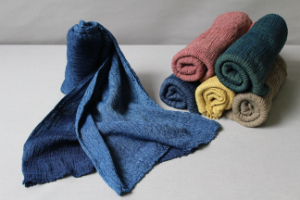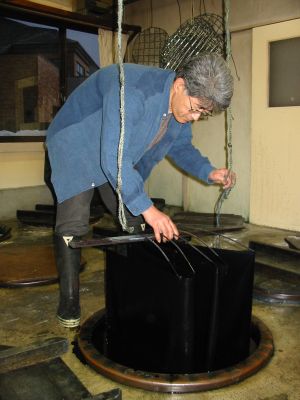 Main production area
Hanamaki City / Morioka City
Overview
"Tatami-dye" indicates that the special feature is dye. In other words, using only natural pigments contained in the leaves of plants called "eye" (perennials of the vertical family), those dyed in blue are called indigo dyeing. Indigo dyeing has been performed since ancient times in Japan, but in the late Edo period, it was a tradition that inherited the method of dyeing that spread throughout the country with the spread of cotton, "Method of fermenting and dyeing in wood lye". It is a technology.
History / History
When Japanese goji dyeing in the early Meiji era was at its most developed stage, the first Fujisaburo worked repeatedly at Ichinoseki, Hachinohe, and dyed textile shops in Hanamaki, and in April 1894, the current store in Ishitogayacho (now Hanamaki City) I drew a signboard of "Sakai dyeing and dyeing" on the ground. After that, while most of the dyed materials were replaced with chemical dyes, it was a time when the most difficult to dye, and continued in the 40's and 50's. In 1986, the factory was relocated in Morioka Tezukuri village establishment, and it succeeds to the present after inheriting the traditional technique as it is.
how to use
It is used, and there may be color transfer, but attached blue drops by washing with water. It will be used for a long time and the color will be lighter. Also, the entire color may be dull. If you soak in hot water at around 60 degrees for 30 to 60 minutes, even the bluish taste will be even white.
Main products
Maron bag: 5,500 yen + tax
Luofuna Mafra: 15,000 yen + tax
Tie: 15,000 yen + tax
Table Center: 4,500 yen + tax
Award calendar
Showa 1st Iwate Dyeing & Crafting Exhibition Special ・ Showa 61 15th Special Product Contest Copper Award ・ Showa 63 17th Special Product Competition Gold Award · 1990 20th Special Product Competition Copper Award · 1992 22nd special product contest gold medal, Iwate Prefecture Superior Skills Worker Award received in 1994, Iwate Japan Day Culture Award in 1994, Received the best design award of 2015 modern age, Iwate Prefecture Outstanding Professional Skills member in 2016
Manufacturing process
Fabric / thread nodling refining and design pattern making → pattern processing → dye making (built-in) → dyeing → finishing → work sewing → product
contact information
Dyeing company Takiura limited company
〒 028-3101
Iwate Prefecture Hanamaki City Ishitori Tanicho Yoshiichi 17-14-1
TEL0198-45-3230