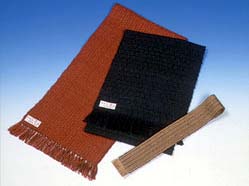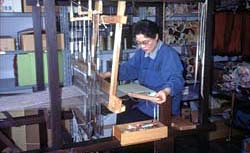 Main production area
Ichinoseki
Overview
From the old to the highest quality materials produced in the few yarn mills nationwide, from scouring, dyeing, hand-woven and consistent work has been performed by methods from ancient times. Dyeing also produces a calm natural color. Recently, it is a high-sense silk product hand-woven to the texture and luster unique to silk, using Tengu yarn from our region.
History / History
The southern part of the shrine, which is said to date back to the Hiraizumi culture, has been revived in 1975, inheriting old traditions and techniques, and this region was known as a producer of gold, silk and horses. It is well-known for its dyeing and the weave and texture that make it easy to tighten and make it hard to become wrinkled.
how to use
Bag Nagoya belt ... We weave in plain style, and it is a belt that is easy to fit and tighten. Tengu Stall ... The ground is thin and warm, and it is particularly shiny and perfect for formal use. Necktie ... It is an unusual tie with a single weave that makes it possible to tie in a full season and is hard to be wrinkled.
Main products
・ Sack Nagoya band: 145,000 yen ...
・ Stall bowl stall: 185,000 yen ~
・ Stall: 75,000 yen ~
・ Shawl: 70,000 yen ~
-Muffler: 21,000 yen ~
・ Tie: 9,800 yen ...
Award calendar
Showa 54, 55, Industry Festival Special Product Competition Gold Prize in Iwate's Advancement in 1993 · National Traditional Crafts Exhibition Encouragement Prize in 59 · 48th Iwate Art Festival Craft Award Winner, etc.
Manufacturing process
Raw yarn → scouring → dyeing → warping → threading → threading → weaving → finishing → silk fabric
contact information
〒 029-0803
Iwate Prefecture Ichinoseki City Senbetsucho Senjoji Maeda 34-2
TEL 0191-52-3351