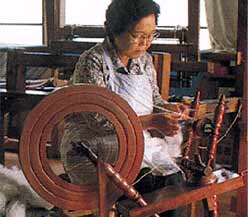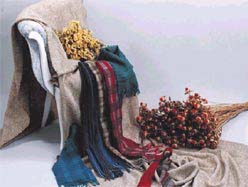 Main production area
Morioka City, Hanamaki City
Overview
Home span of this prefecture produces 27,000 m a year and occupies approximately 80% of the national production value and has developed as a unique hand woven of Iwate Prefecture. Homespan is characterized by its handiness, elasticity, resistance to wrinkles, and an excellent property that makes it difficult to feel its weight when worn.
History / History
Homespan is a farmer in Scotland and Ireland in the United Kingdom. It is a simple woven fabric dyed with wool and then hand-rolled, but sheep was introduced in the Ninohe region around 1881. It is said that the beginning was taught by the English missionary who was stationed there. However, it is said that Mr. Atsuko Umehara of Towa Town (now Hanamaki City) that really worked on Homespan and increased its value as a product. The Umehara family operates a farmhouse for generations, and engaged in breeding of sheep as its combined management, and processed wool and weaved a home span. The technique is passed on to his son Goro, and Oikawa Zenzo in the same town, who was influenced by Mr. Ayako, succeeded in dyeing the fiber of the home span with vegetable dye, and he studied with Oikawa. The child has spread widely, for example, the foundation of Michinoku Akanekai can be created.
how to use
In addition to clothes, mufflers, shawls and tie accessories are manufactured because of the warm, deep taste and the very light feel of the natural materials.
Main products
Clothes: 1 jacket, worth 3.5m, 150,000 yen ...
Stall: 50,000 to 100,000 yen
Muffler: 10,000-30,000 yen
Tie: 7,000 yen ...
Award calendar
1982 Iwate Nippo Cultural Award (Social Category)
Manufacturing process
Hair sorting → Hair washing → Dyeing → Hair loosening → Anti-hairing (over card) → Yarn thread → Twisting → Warping → Weaving → Weaving → Finishing
contact information
Michinoku Akane Conference Center 020-0016
4-30 Nasugawacho Morioka, Iwate Prefecture
TEL 019-622-2648
Japan Home Span Co., Ltd. 028-0114
No. 89, 2 Ward, Towa Town, Towa Town, Hanamaki City, Iwate Prefecture
TEL 0198-42-3637
http://www.homespun.co.jp/index2.html