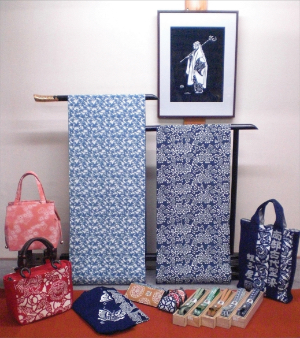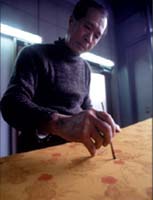 Main production area
Morioka
Overview
We carry out a consistent process from engraving to dyeing and finishing in our workshop. In particular, regular eyebrow dyeing is carefully dyed, protecting the main technique using the accumulation of sap produced when charcoal is burned. The product will be tasteful color by keeping it for years and using it for a long time. Die-cutting is also one of the important techniques of die-dying, and there are 130 types of traditional patterns created from it. The elegance, strength, and dignity of height are seen in all the patterns. Kimonos and obi that make use of such unique patterns are products that you want to wear as traditional Japanese costumes. The material is silk, hemp, cotton.
History / History
At the time of Kanaga (1624-1643), Morioka lord invited the Shishiya Sanemon (the Ono family) as a master dyer from Kyoto, and pattern paper such as small chrysanthemums, buttons, Senba Chidori, etc. including "Mokuzuru", which is the family crest of the southern area. The dye was used as a dye, and it was used to dye high-quality eyebrows, small sleeves, and eyebrows. Since he was a master dyer, he reproduces the pattern of the time-honored tradition, inherits the technique of pattern dyeing using plant dyes and strives to create works that are reproduced in modern life and put to practical use and beloved. It is named and produced as "Southern Ancient Type Dyeing" in the sense that it distinguishes Zen administration from modern times.
Main products
Main products (as of 2018 (excluding tax))
Southern ancient-style dyeing and bonding measure: 200,000 yen to 350,000 yen
Band area: 100,000 yen to 200,000 yen
Table center: 2,100 yen ...
Back: 20,000 yen
Carrying bag: 3,000 yen ...
Manufacturing process
Paste removal → fabric refining → washing → drying → prototype → restoration of prototype → engraving → paste placement → dyeing → coloring → washing → washing → finishing → sewing
contact information
Limited company Ono Dyeing station
〒 020-0063
Iwaki Town Morioka City Iwaki 10-16
TEL 019-652-4116 FAX019-652-4105