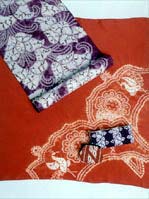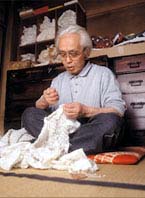 Main production area
Morioka
Overview
Purple root dyeing is purple dyeing, and Akane dyeing is plant dyeing dyed using the root of a plant called Akane. In addition to the traditional patterns of Omasu, Omasu, and Tachiwaku, there are over 800 unique designs. The squeezing is done by hand by dozens of local squeezers. One of the charms is the warm beauty and unique beauty of handicrafts, and the color changes that are becoming more and more delicious every year.
History / History
It is said that Shione was introduced to the southern region before the Kamakura period, and it was produced under the protection of the clan during the feudal era, but was completely discontinued after the Meiji Restoration. However, in 1925, the Southern Shione Dyeing Institute was established and reconstructed. In 1948, the first engineer, the chief engineer of the Institute, founded Soushido independently.
how to use
There are also people who wear clothes in kimono and obi belts. There are many accessories such as table centers, wallets and bags, so you can use it as a gift.
Main products
Silk silk kakuji: From around 500,000 yen
Silk Nagoya belt: around 200,000 yen
Cotton table center: From 3,600 yen
Tsumugi coin purse: From 2,800 yen
Cotton furoshiki: From 5,800 yen
Award calendar
Awarded bronze award at the World Exposition in France and Belgium.
Manufacturing process
Raw material → Refining and desizing → Submerging → Withering → Die engraving → Die → Squeeze → Inspection → Dyeing → Squeezing → Rinse / Extend → Finish
contact information
Co., Ltd.
〒020-0885
2-15 Konyacho, Morioka City
TEL019-622-6668