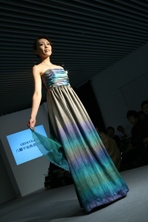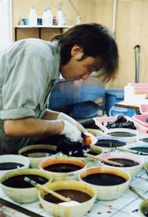 Main production area
Hachimantai
Overview
The world of unique colors is expressed by the dyeing method with geothermal steam to the special drawing and coloring method, and the material is dyed in various ways such as cotton, silk, wool, and blended yarn. In particular, "Geocolor", which was developed from 1997, is popular as a luxury item selected from the material and fabric stages and designed.
History / History
Japan's first geothermal steam power generation was successful, and research on hot spring heat or geothermal steam dyeing was studied, and it was prototyped as a specialty of Matsuo Village (now Hachimantai City). Successful commercialization under the guidance of the Iwate Prefectural Industrial Technology Center Woodworking Special Production Department in 1959. Geothermal stains and their patterns are impossible to make elsewhere and are popular.
how to use
(Dream) Handkerchief ... 100% cotton, especially the tetra handkerchief is rich in color and pattern, and it is also useful as a handkerchief for Japanese clothing, as a backing for a photo stand, as an ashtray, as a flower bottle base. (Geo) skirt dress ... It is completely original and will be made to order and become a valuable item.
Main products
・ (Dream) Handkerchief: 1,365 yen
・ (Dream) Silk scarf: 5,040 to 14,175 yen
・ (Dream) T-shirt: 9,450 to 12,600 yen
(Dream) Accessories: 1,365-6,300 yen
・ (Geo) original creation clothing: 21,000-315,000 yen
Award calendar
-
Manufacturing process
Dye preparation → coloring by design pattern → processing → washing → post processing → finishing → product
contact information
Geothermal Dyeing Research Institute, Inc.
〒 028-7302
Iwate Prefecture Hachimantai City Matsuo Yori Matsukawa National Forest 559
TEL0195-78-2451