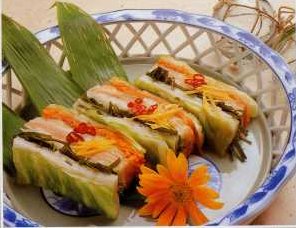 Certification year
2001
Type of certification
Specialty products
Main area
Kamaishi
Introduction of cooking
Fragrant pickles pickled with ingredients of Sankai including Shinmaki-don, kelp, wakame, daikon radish and carrots.
material
(30 packs of products <1 pack 200 g>)
One new roll bowl ... About 3 kg Boiled kelp ... 2 sheets (A3 size)
Salted seaweed ... 300 g Dried kelp ... 6 pieces (50 cm) Chinese cabbage ... 3 balls Radish ... 2 pieces Carrot ... 500 g
Root ginger ... 130 g garlic ... 3 balls chili pepper ... 20 soba shrimp ... as appropriate dumpling ... as appropriate sweet and vinegar (vinegar 1,800 cc white sugar 500 g)
Seasoning liquid ・ Kelp soup (water 1,800 cc, kelp 300 g)
・ Boiled dried soup (3,800 cc of water, 400 g of boiled)
・ Salame liquid (water 500cc Zalame 300g)
・ Hon fish bowl ... 90 g (brand name. Fermented seasoning made from fish)
・ Natural salt ... product weight ratio over 2%
How to make
1. Pre-treatment
(1) Gently squeeze three pieces of new roll 鮭, peel off, remove abdominal region, remove small bones, and soak in sweet vinegar for 3 days. After that, slice it thin to about 2 mm.
(2) Chinese cabbage = half sun dried, cut in half after washing in water. Pickled in 3% salt by weight of Chinese cabbage for 3 days.
(3) Others = Radish: Round cut. Carrot: Shredded with 4cm length. Boiled kombu: squeeze hard after returning with water. Salted seaweed: After washing, squeeze hard. Root ginger and garlic: peel and mince with a mixer. Chili pepper: Cut in half and take seeds. Dried kelp: put it back in water.
2. Narrow work
(1) Spread the leaves of the pickled Chinese cabbage, and sandwich it between the leaves in the following order: → →
(2) Round it up with kelp and wrap it in cooking paper and put it in a pickle barrel.
3. Including seasoning pickles
Mix seasoning ingredients and pretreated root ginger, garlic and pepper, mix and stir, and add to pickle barrels. Put 7.5 kg of weight and pickle for 1 week at 4 ° C.
4. Finish
After pickling, cut it like a sandwich, add finely chopped dumplings as needed, and serve.
Cooking point
Because I use fish meat, I am careful about hygiene management so that various bacteria do not enter.