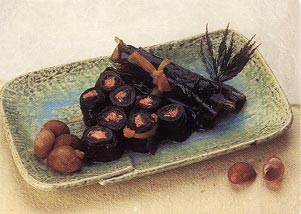 Certification year
1999
Type of certification
traditional Cousine
Main area
Yono-cho
Introduction of cooking
It is a traditional dish of Yono-cho. It is a kelp roll made by rolling a cocoon with a one-year-old natural kelp.
material
Fine kelp ... 2 to 3 m
Fillet of salmon ... 3 slices kanpyo ... 1 m
Seasoning (dashi soup ... 8 cups, sugar ... 3 tablespoons, mirin ... 2 tablespoons, liquor ... 1/3 cups, soy sauce ... 1/3 cups)
How to make
1. Put kelp in water for about 30 minutes and drain over water.
2. Rehydrate the persimmon with water and drain.
3. Cut the chopsticks into bars.
4. Wrap the rod-shaped chopsticks with kelp, cut the kelp when it is appropriate thickness, and tie with kanpyo.
5. Arrange the kombu rolls in a pot, add the soup stock and simmer until softened, add seasoning and simmer further.
Cooking point
1. The fine-grained kelp is a one-year-old natural natural kelp, which is collected from Kuji city to Yonocho. Because it is easy to boil, it is used for kelp rolls. Especially for kelp rolls, use young ones collected by the middle of July.
2. Make sure that the kelp is completely rehydrated and dried.
3. Loosen the kelp so that the taste is good.
4. Boil it on low heat if it is boiled. Also, adjust the cooking time by the firmness of kelp.

Mari Konatsuri's "Telk roll"
Store Name Restaurant "Friendly"
Place 5-24-1 Yono-cho Tanesichi Along Route 45
Telephone 0194-65-3973
Regular holiday Every Monday
Explanation We also offer the taste of the local area, "Furusato-don" (reservation required).
Related sites http://www.pref.iwate.jp/kenpoku/kuji_noukai/denshikan/114924.html