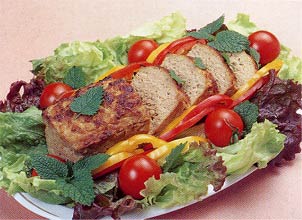 Certification year
1997
Type of certification
New local food
Main area
Ichinohe
Introduction of cooking
Soft, crisp cottage cheese with no need for pre-washing (low temperature treatment points). If cottage cheese is added to meatloaf, it will be soft and finished, and the smell of meat will be taken away. It can be processed at any time by using in-house produced milk.
material
(For 5 people)
Cottage cheese ... 150 g (1 liter milk, vinegar 125 cc or lemon juice 125 cc), minced meat ... 350 g, onion ... 1 cup, bread crumbs ... 1 cup milk, ... 1/2 cup egg, 1 egg, salt ... 1 teaspoon Sesame ... A little, nutmeg ... A little sauce Worcester sauce ... The same amount Tomato ketchup ... the same amount Red wine ... A little gravy (can be done when baked) is added to this and warmed.
How to make
1. For cottage cheese, chill the milk just before boiling to about 40 to 35 degrees, add vinegar little by little, and stir gently.
2. After cooling, strain the separated cheese with a cotton cloth, lightly rinse with water, and drain on water.
3. Add minced meat, bread crumbs, milk, fried minced onions, eggs and 2 and mix well.
4. Put it in a pound type, or bake it in the form of a semi-baked mold with a heat of 250 ° C. I try to make a rice cake, and I'm grilled if I have a miso soup.
5. Remove from the mold, cut according to the number of people, and serve.
Cooking point
1. When making cottage cheese, be sure to cool the temperature to 40 to 35 degrees and then add vinegar. (Knack to finish soft cheese)
2. You can adjust the amount of cottage cheese and minced meat depending on your preference.
3. By adding cottage cheese, the meatloaf color is whitish, so you can adjust the color by adding 1 tbsp each of Worcester sauce and tomato ketchup.

"Meatloaf with cottage cheese" by Toshiro Mio
Contact Ichigocho Kotatsu Nishitako 261
Telephone 0195-35-2806 (FAX)
Description We will demonstrate the business trip. Snacks and dishes using regional ingredients.