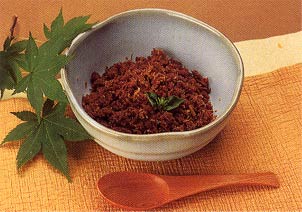 Certification year
1998
Type of certification
Specialty products
Main area
Oshu
Introduction of cooking
Beef processed products. We softly finish the hard part of the cut off muscle. It can also be used as a topping for salads as well as rice ball and omelet ingredients.
material
Beef cut-off: 500 g, root-growing: 1 sauce, soup stock, 360 cc, soy sauce: 100 cc, sugar: 50 g, miso: 2 tablespoons, mirin ... 50 cc, white sesame, 1 tablespoon
How to make
Take a portion of beef and cut it to about 1 cm and simmer in a pressure cooker. (About 15 minutes at low pressure)
Wash out the excess fat of boiled beef with hot water.
Add the soup stock, beef, shredded root ginger, sugar, soy sauce, and miso in a pot and cook until it is gone.
When the soup is almost gone, add mirin and simmer to avoid burning.
Finally put the white sesame and stop the fire.
Cooking point
Use a pressure cooker to prepare a hard meat with a lot of cuts and softness in a short time.
Slowly simmer over the heat to reduce the water content, soak the flavor of the seasoning well, and make good use of the ingredients.
Because it cooks for a long time, it can be stored for a long time in the refrigerator.
In addition to being eaten as boiled in soy sauce, it can be used in various ways, such as toppings for salads, as a rice ball and omelet ingredient.

Kiyoko Kikuchi's "Cook seasoned flakes"
Store Name Steakhouse Pioneer Ranch
Place Oshu City Mizusawa-ku, Masayoshi Nakaueno 22-5
Telephone 0197-22-5555
FAX 0197-22-5556
Opening hours 11:00 to 21:00
Regular holiday Obon and New Year temporary closed.
Explanation "Cow-chan seasoned flakes" is an item of the buffet course. Consistent management from production of Mizusawa beef to provision of meals. Mizusawa beef steak and shabu-shabu is a popular menu.