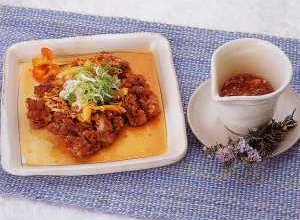 Certification year
2000
Type of certification
New local food
Main area
Shizukuishi
Introduction of cooking
Slowly, it is fried chicken meat that has been improved in Iwate, and it is freshly cooked, and it is a new regional food for young people with sweet and prawn.
material
(For 6 or 6 meals)
Chicken thighs (without bones) ... 3 chunks Shimo Salt ... a little, soy sauce ... 150cc, sake ... 150cc
Flour ... as appropriate fried oil ... as needed sauce 5 onions, lemon ... 1/2 piece, root ginger ... 80 g, garlic 2 ..., red pepper ... as appropriate sugar ... 100 g soy sauce ... 200 cc chicken chicken soup 150 cc sake 150 180cc
Vinegar: 150 to 200 cc
Miso ... 2 to 3 teaspoons, minced bean paste ... 2 to 3 teaspoons
How to make
1. Slice the thighs and soak them in salt, soy sauce, sake for about 30 minutes.
2. Cut the green onion in two and then cut it into small pieces, leaving a few green parts for later use as a decoration when adding sauce. Remove the seeds of lemon, chopped ginger, minced garlic. Remove red seeds and make small round slices.
Combine seasonings for sauce with 3.2 and let them blend well.
4. In the seasoned 1, sprinkle flour just before frying and let the meat blend.
5. Heat oil in a frying pan (around 170 degrees) and fry 4 from the peel. At first, fry it on high heat, turn it over when it gets burnt, and fry it on low heat for about 15 to 20 minutes (until it's in the middle). Finally heat on again and fry the surface.
6. Cut the freshly fried to a size you can eat and serve in a bowl.
(7) While hot in the deep fried, put the sauce that you have made, and garnish the green onion with the green on it and decorate it.
Cooking point
1. Use plenty of in-house production of green onions for the sauce. The flavor of the green onion makes the sauce delicious. You can make it in advance and store it in the refrigerator.
2. The thighs are cut into pieces and fried for a long time in a single piece so that the inside of the meat is soft and the flavor is not missed. Finally, it is fried on high heat, the surface is finished lightly, and a special green onion sauce is put on the hot place.