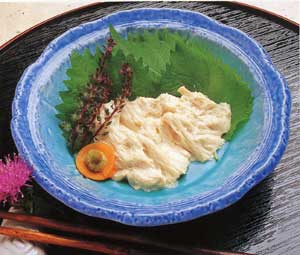 Certification year
2001
Type of certification
traditional Cousine
Main area
Yono-cho
Introduction of cooking
Soy milk is warmed, and the film on the surface is yuba. Squeeze quietly with bamboo chopsticks. In the old days, it was eaten for nourishment after illness and postpartum, which was carefully treated as a valuable protein and fat source in Yamamura.
material
(10 to 20 pieces) Soy (Nambus shirome) ... 750 g, water ... 9 liters
How to make
1. Soak soy overnight.
2. Add water little by little to fresh soy and rub it, put the rubbed thing in a pan and simmer.
3. Put at 90 ° C to 100 ° C in a through bag and squeeze out the soymilk. Put the soymilk again in a pot and cook on fire.
When soymilk is warmed to about 85 ° C, yuba will come naturally. Gently scoop it from below with something like a bamboo basket.
5. Then, let the soya flour be made into soy milk and eat it with sashimi with wasabi soy sauce etc.
Cooking point
1. I am particular about good water and good beans.
2. Soy beans are refreshing enough.
3. Prepare water nearby as there is a risk of spilling when boiling.
4. Fresh yuba can be stored frozen.
5. It can be used for processing salad, vinegar, vegetables, etc.

Minami Eiko's "Southern Yuba"
Store name Ono Campus Yuuki Center (adjacent to Michi no Eki Oono)
Place Yono Town Ono 58-12-30
Telephone 0194-77-4379
FAX 0194-77-4307
HP address http://www.ohnocampus.jp/kau/index.html# sanchoku
http://www.thr.mlit.go.jp/road/koutsu/roadstation/iwate/iw04.html
business hours
April-December 10: 00-18: 30
January-February 10:00 to 16:30
March 10:00 to 17:30
Regular holiday Every Monday
Explanation The dried yuba is sold at production line. Demonstrations will be received (reservation required). Yuba is an additive-free food.
Related site http://www.pref.iwate.jp/kenpoku/kuji_noukai/denshikan/007434.html