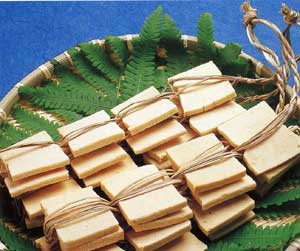 Certification year
2001
Type of certification
traditional Cousine
Main area
Ichinoseki
Introduction of cooking
Make the tofu hard, slice it, freeze it and dry it. Traditional processed soy products made during the extremely cold season.
material
(Everybody raises) soybeans ... 4.5 kg, bitter gourd (20 degrees) ... 100 cc, scoops ... 1 teaspoon
How to make
1. Soak soybeans in water for two days and nights.
2. Grind mash, mix in the decanter and simmer in 20 liters of water.
3. Divide the boiled 2 into okara and soymilk. When the soymilk has cooled to 80 ° C, add garlic and stir.
When 4.3 becomes pudding-like, put it in a mold and weigh it to make firm tofu.
5. Thin the solidified 4 and put it on a stainless steel plate and freeze it for 5 to 6 hours while blowing in a -25 ° C freezer. Then, let it sleep at -5 ° C for 4-5 days.
Knit with 6.5 grass and dry for about a week.
7. Boil with various ingredients. It's a supporting role, but it's delicious because it absorbs all the umami of the other ingredients.
Cooking point
1. Make the end of November to mid-March suitable for drying outside (freeze at night, melt in daytime).
2. Pay close attention to the weather forecast and the sky (because it depends on the weather, so if it is rain or snow, put it under the roof, cover it with a sheet, etc.). In addition, we pay attention to appropriate temperature and time.
3. Natural food that does not use any additives (antifungal, preservatives).
4. If you order, I also make Aobata as a raw material.

Keiichi Chiba's "Frozen"
Contact: Keiichi Chiba Home Telephone / Fax 0191-24-3623 (Direct order available.)
Store name A co-op Iwate Ichinoseki store
Place Ichikawa Takeyama 7-1
Telephone 0191-23-3315
Business day / Business hours 9:30 to 20:00
Regular holiday New Year only
Explanation 230 g (entering 32 pieces) 580 yen
Store name JA Iwate Minami Furusato Center "Kori Sato"
Place Hiraizumicho Hiraizumi 字 34-13 JA Iwate Minami Furusato Center
Telephone 0191-46-4850
HP address http://www.ja-iwateminami.or.jp/
Business day / Business hours 9:00 to 17:00
Regular holiday Fixed holiday
Explanation 230 g (entering 32 pieces) 580 yen