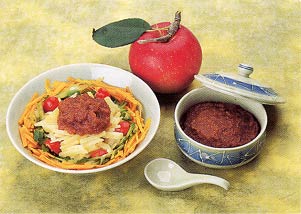 Certification year
2000
Type of certification
Specialty products
Main area
Hanamaki
Introduction of cooking
Ue-bari based on apples and pickled plums and devised with seasonings. It is popular for its boiled vegetables and for its crispy taste.
material
(Finished product 500g) Apple ... 300g (with skin and core removed. 2 pieces), pickled plum ... 120g (with seeds), pickled garlic ... 5g, sugar ... 50g, miso ... 2 tablespoons,
Powder Nanban ... 1 teaspoon, salt ... a little bit
How to make
1. Remove the peel and core of the apple and put it in salt water.
2. Take a pickled plum seed.
3. Grate the pickled garlic.
4. Put apples, 2 pickled plums, 3 garlic, sugar and miso into a mixer or a food processor and stir until it becomes pasty. (About 30 seconds)
Put 5.4 in a pot and cook over medium heat for 5 minutes.
Add powder Namba to 6.5, heat over medium heat and stir for an additional minute.
Cooking point
1. We thought that it would lead to expansion of consumption of apples by using apples as side dishes instead of dessert.
2. Being a material that considers health.
3. Having been pickled to remove the smell of garlic.
4. Usually, seasoning is added at the time of simmering, but in this case, it is stirred with a mixer or a food processor together with the ingredients to make the taste mild.
5. A refreshing taste to enhance the taste of vegetables. Match well with boiled vegetables.
6. As for eating, in addition to vegetables, you can put it on rice or mix it with spaghetti.
7. The taste is suitable for Japanese style, Western style and Chinese style, and can be used widely.
8. I can make it. (About 2 weeks in refrigeration)
9. When the child eats, refrain from powder Namba.

Mr. Saito's "Apple and pickled plum dressing"
Contact Information Hanamaki City Narita 17-141
Telephone 0198-23-4785
Explanation In order to expand the consumption of apples, which is a specialty of the region, I thought that it would be useful for everyone to eat. Consultation is required for demonstration guidance.