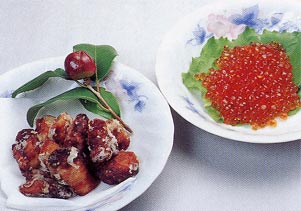 Certification year
1997
Type of certification
traditional Cousine
Main area
Kuji
(Left of the photo) Karako fried whitefish, (right of the photo) pickled salmon roe
material
【Shrimp fried chicken】
Shiroko ... 2 animals (4)
Pickled juice (garlic ... 1 over (shibo soup), root ginger ... 1 over (shibo soup), mirin ... a little, soy sauce ... 50 cc, liquor ... a little)
Deep-fried oil flour
Egg of one tuna ... 1 cup of sake, proper amount of sake, salt ... a little, sugar ... a little (more than salt)
How to make
【Shrimp fried chicken】
1. Wash well with brine and drain.
2. Shiroko is cut into 3 to 4 cm, and pickled in pickle for 3 to 4 days.
Put the crumbs on the bald radish of 3.1 and make it deep fried.
【Shrine pickles with salmon roe】
1. Take out the ovaries from the belly of the female chick and gently push out the eggs in the middle to break them apart. Then, wash the eggs of the chicks with brine (saturated saline).
2. The eggs are washed 3 times with salt water to get a fresh odor.
3. Add salt and sugar to sake lees to make it taste better. Wrap salmon roe in gauze with scissors between sake lees and pickle for 4-5 days.

Mr. Yoshiro Mori's "Dish of salmon"
Contact Kuji mayor Uchimachi 44-92-1
Telephone 0194-53-5666
Description Soup, ice head, salmon roe etc.