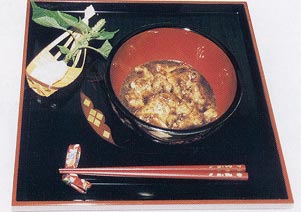 Certification year
1996
Type of certification
New local food
Main area
Oshu
Introduction of cooking
Juune that has been cultivated everywhere in the past, is the sum of the wonderfulness (special smell, nutritive value) that Juune has.
material
(5 people) juune ... 100 g, sugar ... 250 g, soy sauce ... 8 tablespoons flour, ... 500 g water, ... 300 cc, ground rattle ... appropriate amount
How to make
1. In a dry frying pan, cook the juune so that it becomes slightly fragrant and rub it in a mortar.
Add sugar to 2.1 and season with soy sauce.
3. Put about 200 cc of water in the flour, add the remaining water while watching, make it firm enough for earlobe, and put on a towel for about 2 hours.
4. Divide the finely chopped flour into a handful size and sprinkle with rattle.
5. While stretching thinly with dry hands, break into pieces and boil in boiling water.
6. Open the colander when the heat comes up, drain the water, and lift it.
※ If you add flour to the flour that has been kneaded, it will not stick to your hand when it breaks.
Cooking point
1. Put water in the flour and knead it well, let it go (about 2 hours)
2. If you sprinkle starched flour on the flour, it will not stick to your hand when it is torn.

"June food" of the Jeune cooking spread society
Store name Roadside station "Mizusawa" Flor city
Place Owaki City Mizusawa-ku, Sister Town, Ishikawahara 51-3 (along National Route 343)
Telephone 0197-26-3739 (FAX)
HP address http://www.thr.mlit.go.jp/road/koutsu/roadstation/iwate/iw10.html
Business day / Business hours every Saturday and Sunday 8:00 to 17:00
Explanation "Juune no Shiyu" 5 pieces 300 yen, "Jue Nee" 5 pieces 250 yen, "Juene Ganzuki" 300 yen, red rice 250g 200 yen