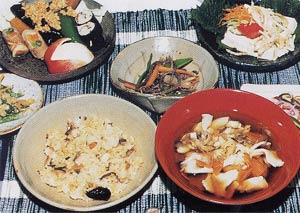 Certification year
1996
Type of certification
traditional Cousine
Main area
Ichinoseki
Introduction of cooking
It is a porridge dish made with vegetables that can be taken in the area. In the spring you can enjoy wild vegetables, tofu dishes in the summer, mushroom dishes in the fall, simmered dishes in the winter and dishes from the countryside.
material
(For 5 people)
[Kiji meat braised (winter season)] glutinous rice 3 cup, ground beef meat ... 150 g, soy sauce ... 40 cc, salt ... 1 teaspoon, sugar ... 1 tablespoon, liquor ... a little bit, depending on the season, chestnut mushroom, Yamanashi mushroom [Okara Rolled Nori (10 pieces of Nori)】 Okara ... 500 g, Minced chicken ... 100 g, Shiitake (dried) ... 3 pieces, Carrot ... 80 g, Vinegar ... 90 cc, Nori ... 10 sheets
How to make
【Kiji meat bran】
1. Clean the glutinous rice and leave it in water for 2 hours.
2. Take the soup in a wooden spoon and season with sugar, soy sauce and salt.
3. Chop the ground meat into 1 cm pieces, stir fry with oil, and mix in soup.
4. Cut the water of glutinous rice and steam it, transfer it to a bowl when it is steamed, add the soup of 3 and mix well, and steam it for about 5 minutes.
【Okara Nori winding】
1. Reheat and mince shiitake in lukewarm water. Mince the carrots too.
2. Add oil to the pan, add shiitake mushrooms, carrots and fry, and fry the minced chicken. Add the shiitake mushroom soup and a small amount of water, simmer, add sugar, salt and soy sauce to taste. Finally put vinegar and cool.
3. Cut the paste in half, put it on the roll and wrap the 2 okara like a roll.
4. Divide 6 pieces into 6 equal parts and pick 2 pieces with a toothpick.
Cooking point
1. It is a dish that used vegetables harvested in the season abundantly. You can enjoy the taste by eating while warm. Seaweed roll of okara is to cook just before eating.

"Shenzhen Seasonal Countryside Cuisine" by Kaukakakai Flower Conference
Contact Representative Tachiko Oikawa
Ichinoseki City Fujisawa-cho yellow sea letter abyss 240-72
Telephone 0191-63-4551
Explanation The menu is slightly different depending on the season. It will be demonstrated in a pair of two.