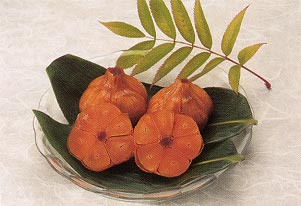 Certification year
1998
Type of certification
Specialty products
Main area
Kitakami
Introduction of cooking
It is a crispy miso pickles with quick-cooked garlic. It is also characterized by the low odor of garlic.
material
(About 20 pieces)
Garlic ... 10 kg, soy sauce ... 1.8 liters, sugar (roughness) ... 1.3 kg, miso ... 6 kg
How to make
1. Cut the leaves long from the base of the garlic and wash it thoroughly. (It will be sun-dried for a while.) When dry, cut the stems short.
2. Boil sugar with soy sauce.
3. Once the sugar has melted, add miso and stir while stirring. Stop boiling and completely cool the place where the miso starts to plump.
4.3 Put garlic and weigh it.
It can be eaten from 5.3 months to 4 months.
Cooking point
1. Dig the garlic early. (Although around 6/20 is a standard while the leaves are blue) Make the product crispy. Improve the taste of taste.
2. Do not boil when cooking miso.
3. When you put garlic, let it cool well.
4. Store in a cool dark place.

Mie Wada's "Min pickles with garlic"
Store Name JA Waga Chuo Sangyo House "Oni no Chaya" (adjacent to Kitakami City "Onikan")
Place Kitakami city Wakamachi Iwasaki 16-126-1
Telephone 0197-73-8023 (FAX)
Regular holiday Every Monday
Description 200g 1 bag 350 yen, also available upon reservation order.