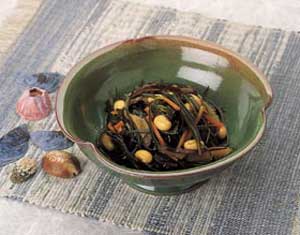 Certification year
2000
Type of certification
traditional Cousine
Main area
Miyako
Introduction of cooking
A traditional regional dish cooked with black kombu and soybeans, shiitake and carrots that can be harvested in Miyako city.
material
(For 10 people) 2 pieces of black kombu (70), 50 g of soybeans, 30 g of carrots, 10 g of dried shiitake (about 3 large pieces), 5 tablespoons of soy sauce, 1 tbsp of sugar, 1 tbsp of sake, 1 tbsp of mirin, 1/2 tbsp of salt , Boiled soup cup 5 (made with kelp and shiitake mushroom backspoil and simmered)
How to make
1. After the kelp is soaked in water for 20 to 30 minutes and drained, the kelp is folded in three and covered with a roll that comes around from the end. Kizamu from the end of the rolled kelp.
2. Soy leaves in water overnight. Return the shiitake to the water and lie down, and let the carrot also lie down.
3. Add boiled kelp and miso soup to a pot and boil once with soy and shiitake.
4. Once the soybeans are cooked add carrots and simmer.
5. Once the carrots are cooked, season with ginseng, mirin, sake, soy sauce, salt and simmer with a scum. (5 to 10 minutes) ※ You may put pepper as you like.
Cooking point
1. As the new product is hard, add 2-3 drops of vinegar and cook it in a bowl. Over the years, kelp may be returned as it is.
2. Recently, there are cases where we can add shirazu that can be harvested locally. In addition, green beans are often used.