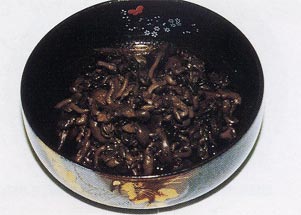 Certification year
1996
Type of certification
Specialty products
Main area
Oshu
Introduction of cooking
Shimeji is produced in Kinugawa. It is formally called Hiratake. I pack it and ship it, but I use the leftover around that time for cooking. Long-term storage is possible, and the range of application is expanded.
material
Shimeji ... 10 kg, sugar ... 1.4 kg, soy sauce ... 10 cups weak, sake ... 2.5 cups, a bite tofu, 2 tablespoons
How to make
Take 1.10 kg of mushroom waste, divide into small chopsticks and prepare.
2. Sprinkle the water in a bowl slowly, and raise it to dry and drain the water.
3. After that, add seasoning and simmer for 2 hours, and add simmered chili pepper and simmer for 30 minutes.
4. Cool well and then boil and vacuum package.
Cooking point
1. Can be used immediately for rice.
2. In addition, it can be used for cooking rice, daikon grated and simmered rice, and a dish that simmers in taste.


The name of the shop
Place 60-2 Hikawa ward, Oshu city
Telephone 0197-52-4111 (FAX)
Opening hours 10:00 to 16:00
Regular holiday Every Monday (If Monday is a public holiday, the next day)
Explanation The recommended menu is 1,000 yen for the first time, 1,000 yen for the fifth eye, 1,500 yen for the mochi, and 2,000 yen for the mochi.
Related site http://www.iwatetabi.jp/spot/detail/03384/1296.html