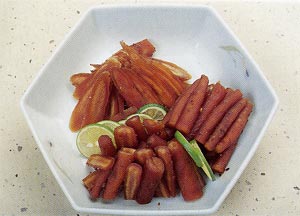 Certification year
1997
Type of certification
Specialty products
Main area
Tono
Introduction of cooking
It is a pickle that is made using materials grown by itself, without using any additives, and making improvements to the shelf life.
material
[The first salting] mountain burdock ... 10 kg, salt ... 1 kg, water ... 1 doo, weight ... about 5 kg [condiment]
[2nd pickling] Soy sauce ... 1 bowl-1 bowl 5 go, mirin ... 5 go [3rd book pickling] 2nd pickled liquid, moromi (boiled soy sauce) ... 1 bowl, 2 to 3 kg of inside sauce
How to make
1. After harvesting the burdock burdock, wash it well and salty it for about a month with the amount of the first salting.
2. Rinse and drain the salted material well.
Combine the seasonings of the second pickled pickled sauce and boil it, and while it is hot, add 2 and soak for about 15 days.
Add 4.3 to the colander, add to the juice, add boil and boil, and pick it up in the burdock.
From the 5.4th time, you would like to add oil etc and repeat the simmering process. (If you soak every year, do not discard the seasoning liquid and add soy sauce to the next year's pickle)
Cooking point
1. The mountain burdock, radish, etc., which are the ingredients for pickles, are grown by themselves and processed with the insistence that they do not use any additives.
2. As for pickles, the method was established by accumulating experiences by themselves rather than being taught.
3. The ingredients are first salted, and from the second time it is soaked several times using soy sauce and soy sauce moromi.
4. Every soaking, the sauce is boiled down, so mold is not generated and the preservation period is extended.
It is carefully made over a period of 5.4 months.

Kikuo Ichinokura's "pickles of mountain burdock" and others
Contact Home 0198-68-2311
The name of the store Roadside station "Tono windy hill"
Place Tono City Saori-cho Shinsato 8-2-1
Telephone 0198-62-0222
HP address http://www.thr.mlit.go.jp/road/koutsu/roadstation/iwate/iw17.html
Opening hours April-October 8:00-19:00 November-March 8:30-17:30
Regular holiday January 1 to 3
Explanation Picklings of mountain burdock 300g 500 yen Kikutamari marinated pickles 100 g 100 yen Mino Mushinanban 400 g 500 yen