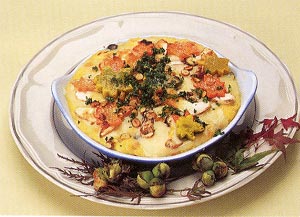 Certification year
1998
Type of certification
New local food
Main area
Kuzumaki
Introduction of cooking
It is a gratin using a lot of mushrooms, mushrooms and vegetables.
material
(4 servings) 1 cup of water, 3 cups of water, 3 cups of milk, 3 cups of milk, 1 pack of pumpkin, 1/5 pieces of carrots, 1/2 bottle of onion, 1 piece of chicken, 100 g of cheese ... 50 g, melted cheese ... 4 sheets, butter ... proper amount, parsley ... a little bit, salt and pepper ... a little bit
How to make
1. In a pot, add water to the pan, heat on the pan, add milk when the pan is boiled, simmer over low heat, salt and pepper.
2. Divide Shimeiji into small cells. Cut the pumpkin and carrots and leave them boiled. Cut onion and chicken into 1 cm cubes.
3. Stir in chicken and vegetables, add milk and simmer.
Mix 4.1 and 3.
5. Boil butter in a plate, add 4 and cut in 5 mm square cheese, melt cheese, butter, boiled pumpkin, and carrots and bake in an oven (180 ° C, 5 minutes).
6. Sprinkle chopped parsley.
Cooking point
1. It is thought from the two aspects of the spread of milk, which is a rich regional resource of Honcho, and the spread of cereals that are being reviewed as a healthy food. We are devising a simple cooking method that anyone can easily tackle.

"Autumn leaves gratin" of Motoki life improvement group
Contact Representative Katsuya Tsuchiya Kuzumaki-cho Kuzumaki 37-117-5
Telephone 0195-66-0319
Description Delivery demonstrations allowed