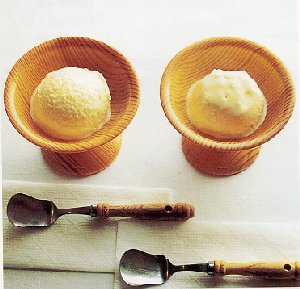 Certification year
1996
Type of certification
Specialty products
Main area
Yono-cho
material
Egg yolk ... 5 pieces inside, sugar ... 150g, milk ... 500cc, fresh cream ... 250cc, vanilla extract ... a little bit, ice, salt ... about 1 kg
※ Tools (ice cream freezer)
How to make
1. Combine egg yolk and sugar and beat.
Add milk to 75 ° C and add to 2. 1.
3. Transfer to a pan, heat (80 ° C, 15 seconds), and when thickened, pour in (15 ° C).
4. Add another six minutes of fresh cream and mix well with 3.
5. Stir in a cream freezer (take the container around in a sherbet shape and take out in the freezer). Also, if you want to solidify in small portions, this time.

Same as the above method 4 ... then put in the freezer and stir in the sherbet shape. (Approximately three times every hour)
Cooking point
1. Always protect at 80 ° C for 15 seconds when Method 3 is over (Because there is residual heat even if you turn off the stove, be sure to lower it from the stove).
2. Make fresh cream not lather so much.
3. The more you mix three or more times when it becomes a sherbet, the more delicious it is.