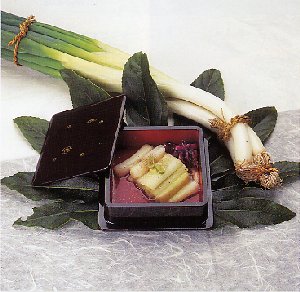 Certification year
1999
Type of certification
New local food
Main area
Ichinoseki
Introduction of cooking
It is marinade using the currant onion of Ichinoseki special product.
material
(4 servings) green onion ... 6 pieces, salad oil, vinegar ... 2 tablespoons each, A (three slices of lemon, salt ... some white wine ... cup 1/2), garnish (purple cabbage 150g, salad oil, salt) A little sugar)
How to make
1. Cut green and white pieces of green onion each 7 cm long.
2. Put water cup 1 and A in a pot and cook on fire.
When 3.2 is simmered, add 1 onion, simmer until soft on medium heat and stop the fire.
4. Put salad oil and vinegar in a bowl, mix well with a whisk, add to 3 and cool.
5. Chop the purple cabbage of garnish and wash it quickly with water and drain thoroughly.
6. Heat the frying pan to add salad oil, add 5 and cook quickly. When it gets cold, add sugar and salt, and add onions to a bowl.
Cooking point
1. Boil it over medium heat to bring out the high sugar content and mellow sweetness that is the feature of "Kurinegi".