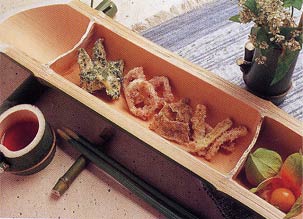 Certification year
2001
Type of certification
New local food
Main area
Ichinoseki
Introduction of cooking
A new regional cuisine prepared by dipping bamboo shoots from the Zenmune and Karabuka in spring, summer, autumn, and winter images. In the southern part of the prefecture, it is said that bamboo planting is recommended as one of the industrial policies of the Edo period, and bamboo groves remain in various places.
material
(For 4 people)
[Yomogi taste] potato starch ... 20 g, frozen wormwood ... 20 g, bamboo shoot tip ... 4 pieces (length 5 ~ 6 cm, width 2 ~ 3 cm)
[Ume taste] starch powder ... 20 g, dried plum (except seeds) ... 5 g, bamboo shoots (ring cut) ... 12 pieces (diameter about 4 to 5 cm, thickness about 5 mm)
[10 flavor] starchy starch ... 20 g, 10 ... 10 g, bamboo skin of this princess skin ... 12 pieces (the length 5 ~ 6 cm around 3 cm around)
[White sesame taste] starch powder ... 20 g, white sesame ... 10 g, bamboo shoots (half-monthly cut) ... 12 pieces 【Tenyu soup】 Soup stock ... 150 g, soy sauce ... 30 g, mirin ... 15 g
Egg white ... 1 piece fried oil ... as appropriate
How to make
1. Thaw the yomogi, finely chop it into starch and mix well.
2. Mince the dried plum and mix well with the starch.
3. Sprinkle and mix in starched starch.
4. Mix the white sesame in the starch powder.
5. Peel this freshly picked bamboo shoot. Leave the skin of the white part of the tip for taste.
6. Peel carefully the peel on the tip.
7. Cut each part into round slices, half-moon slices, etc. as appropriate.
Add egg whites to 8.7, add each batter, fry slowly with cold oil, and finally fry at high temperature.
9. Put the 4 kinds of fried in a bowl and add a tempura sauce according to taste.
Cooking point
1. Freshly picked bamboo shoots have almost no taste if they are fried slowly with low temperature oil, even if they are not drained.
2. You may use vacuum packing or bottle packing etc. when making it other than the season.
3. For long-term storage, when it is made with raw okara pickles (30% salt of okara), the taste and texture are good.
4. When using salting, desalt completely before cooking.
Invention point
1.1 We used bamboo shoots depending on the part, and tried to put out feeling of spring (yomogi), summer (ume), autumn (june), winter (white sesame) by clothes.
2. As a batter, it looks crispy with starchy starch, and it has little stickiness over time.

Setsuko Koyama's "The Four Seasons of the Bamboo Forest"
Contact Ichinoseki City Murone-cho Yagoshi Komatsu 190
Phone 0191-64-3526
Explanation The taste of salmon dishes is the most delicious in the season (May to July).